Services
KIDOVA offers the following services in the various fields and sectors in which the company is active.
Research and development: elaborating innovative and efficient approaches suitable to solve modeling or engineering problems.
Scientific software developments: making readily available innovative methods in effective software solutions.
Consulting: taking in charge or assisting clients to carry out expert studies.
Training: transferring technology to our clients.
An overview of relevant fields is given below.

Geostatistics and spatial data analysis
Non-exhaustive list of typical topics.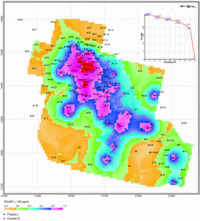 Local and global uncertainties about soil contamination.
Exploratory and statistical analysis of spatially or spatiotemporally varying data.
Estimation and stochastic simulation of regionalized (spatial or spatiotemporal) variables.
Multivariate analysis for data integration purposes.
Quantification of local and global uncertainties.
Optimization of sampling or measurement surveys, or monitoring systems, for minimizing spatial or spatiotemporal uncertainties from one or different sources of data.
Optimization of well or borehole layout for production or recovery purposes.
Statistical testing and probabilistic classification of data.
Risk analysis and decision making: converting spatial uncertainties into uncertainties about targeted objectives.
Analysis of the spatial continuity and connectivity of rock properties especially for flow performance purposes.
Analysis and modeling of spatially distributed directional discontinuities.
Other modeling fields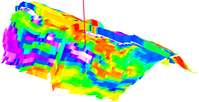 Maximum permeability-tensor component of a naturally fractured reservoir.
Beside a high expertise in geostatistics, KIDOVA specializes in various modeling fields with application to petroleum, hydrogeology, environment and geological disposal of nuclear or hazardous wastes.

Recent and ongoing projects are related to the following fields.
Characterization of porous and naturally fractured reservoirs.
Analysis and simulation of single and multiphase flow and transport phenomena in porous and fractured media.
Conditioning of porous and naturally fractured reservoir models to dynamic data (automatic and assisted calibration/inversion of models against well-test or production data).
Automatic grid generation and optimization of heterogeneous geological formations, and upscaling of block properties.
Structural and geological modeling.